Collapsible content
Click to keep reading >>>

Explore our curated collection of products available for order. Each item in this collection is handpicked from exceptional overseas vendors, often chosen for their intricate craftsmanship and use of materials not readily available locally. These products typically have high minimum quantity requirements, making them challenging for local production.

We stand by the quality of our curated collection. While we don't handle their shipping directly — products ship straight from the vendors — we have invested time and resources into extensive testing and evaluation to ensure your trust. While no process can guarantee perfection 100% of the time, you can be confident that our selection has undergone thorough scrutiny.

Currently, our curated collection features just one product, underscoring our selectiveness. Keeping things fresh, we'll be dropping new finds into the collection as we discover them. Got something specific on your radar? Give us a shout, and we'll go treasure hunting for you.

Our product evaluation process comprises:

-Timely Shipping: Confirming vendors adhere to their promised delivery timelines.
-Quality Assessment: This involves examining material weight, content, and meticulous construction details, such as sewing techniques, trims, and overall silhouette.
-Returns Policy Verification-Reliability Testing.

Before diving into larger orders, we highly recommend ordering a sample of more than one size. This ensures a clear understanding of the product and its fit. Additionally, make sure to read all the details on the product page for the specific return policy for that item.
Returns Info

We have made sure to provide a risk-free initial sample purchase for up to 20 pieces per international vendor. If you're unsatisfied, you can return these items directly to us — no need for international returns — and receive store credit.

Click here to view the full returns policy for our Curated Collection. Make sure to also read each product page thouroughly for specific returns info.
Shipping Info

Currently shipping to the continental USA only. Products ship directly from a small selection of trusted vendors. See each product page for the specific shipping origin and estimated shipping speeds.

We've eliminated the disappointment of international shipping fees. We cover the shipping costs, offering free shipping for you.

Please note: If you have Sixelar® Blanks in your order, you will be charged the applicable shipping for those blanks, but not for the Curated pieces.
Vendor:

Regular price

Sale price

$24.99 USD

Unit price

per
Collapsible content
CHAT WITH US

Contact us via Live-chat 💬 for assistance with discounts. Or request a CALL-BACK by clicking on the 📞 icon on the bottom right if you are on your mobil device
SHIPPING

Shipping worlwide. Choose your most convenient carrier at checkout UPS or USPS.

We receive many orders a day so allow us at least 24 Hours to process your order.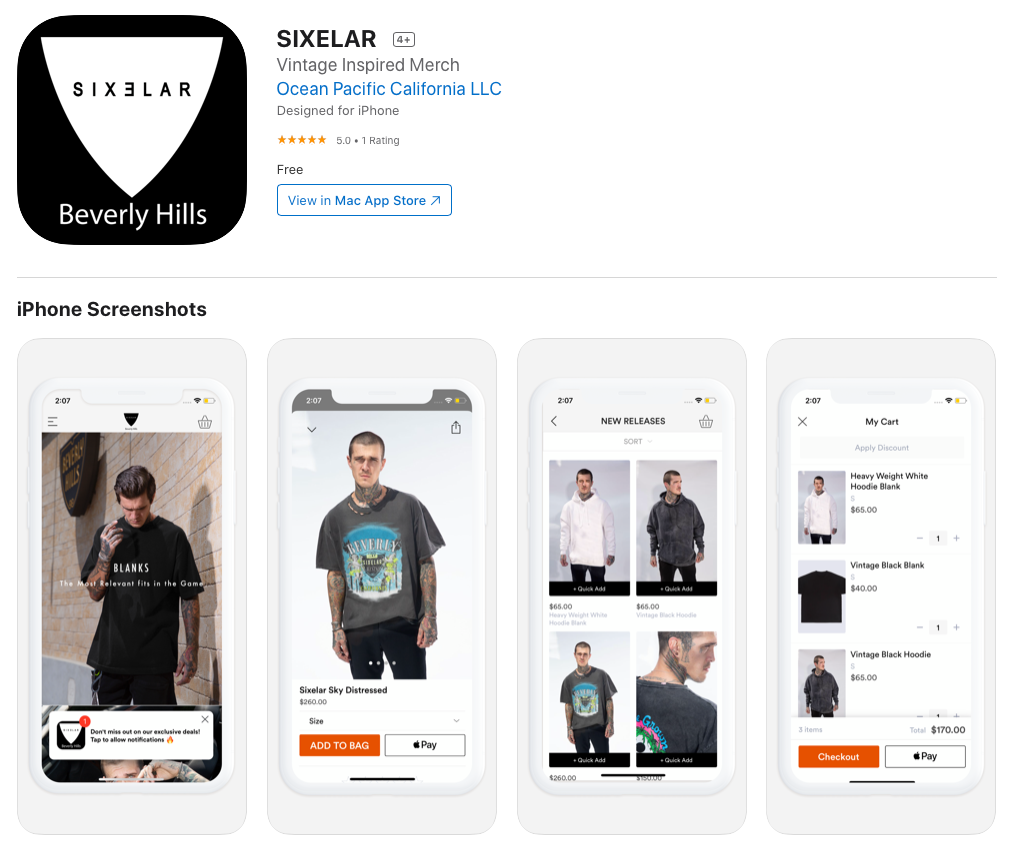 SIXELAR APP
Shop easily on our Sixelar app available in the Apple Store. Discount codes need to be applied manually when using app.
DOWNLOAD